So, if you dont know my story, you can look up some old entries or just friend/ask me :)
Anyhow, here is me February.....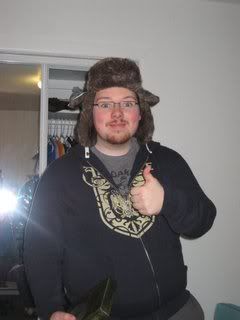 End of May.....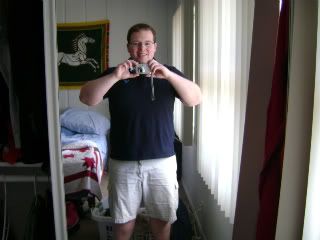 Shockingly the summer was a really hard time for me. I decided to move back home in August to finish writing my Masters thesis away from all the garbage drinking and eating I was falling into again, but I still wasn't as active as I should have been, but from mid august to now I have really been working hard:
And I realize for some reason I think I look totally ridiculous.. not so much with the shorts I threw on but just...yeah I look weird...anyhow...
In I think April I bought the blue shirt I am wearing, and the orange one. The blue one is an XL and the Orange an L. When I tried to wear the orange one, I couldnt. Not in the oh it just doesn't look good on me, I could not put the shirt on. So, while I have taken a hiatus from weighing myself, I think I am making progress!!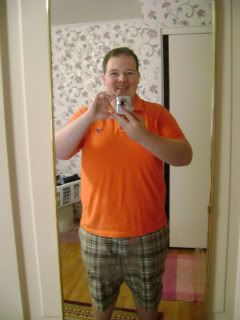 Eventually I want to be as healthy and as active as I used to be in 2006:
I know I have a long road ahead, but I am going to do this, I have to. What police department would hire a guy who looked like and couldn't run like I could in February
Anyhow, that does it for me right now!
Comment, critique, etc.
Hope everyone is doing great!!
Hey all, I hope you are enjoying your weekend. Things have been a little quiet, so I thought I would post some stuff, maybe inspire some people.